Issue 101 will be delivered to homes between March 11 and March 21.
Inside Stories:
Isn't it satisfying to arrange, assemble, and produce? It's amazing the beauty that emerges when vision and craftsmanship dovetail together. This issue of American Lifestyle magazine is a feast for those who love to create.
The world-renowned Pimentel and Sons Guitarmakers is a family affair, an enterprise that Lorenzo Pimentel started in 1951. His sons proudly continue the legacy of exceptional craftsmanship, attention to detail, and innovation in their Albuquerque shop.
Embroidery artist Sarah K. Benning uses a needle and thread to create bold and whimsical pieces of art on fabric. Botanicals, especially her houseplants, are often used as inspiration, as well as photographs from her travels.
Echoview Fiber Mill, located in Weaverville, North Carolina, began as a place for farmers to bring their wool to be processed. Today, the mill also buys some of the wool to create its own beautiful items, like clothing, rugs, hats, and even teapot warmers. Its mission of sustainability is at the core of the business, as it focuses on environmentally friendly practices.
How very lucky the world is to have creators of beautiful goods, art, and music.
On the back cover:
Rachel Kristyniak-Jensen has spent years devoted to healing herself and she's here to holdspace for you to do the same. She has a Masters in Chinese Medicine from NorthwesternHealth Sciences and hold a Reiki Level 1 certification. She also have a passion for somatic therapy and guided meditation.
Schedule an Integrative Appointment
Visit: acupuncturewithrachel.com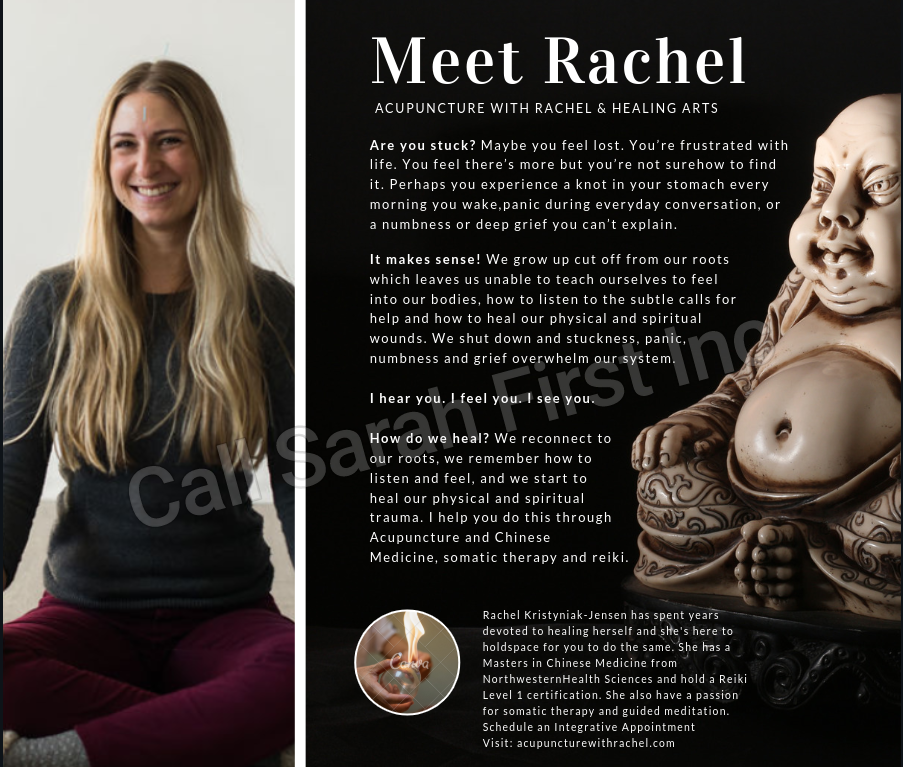 Are you stuck?
Maybe you feel lost. You're frustrated with life. You feel there's more but you're not sure
how to find it. Perhaps you experience a knot in your stomach every morning you wake,
panic during everyday conversation, or a numbness or deep grief you can't explain.
It makes sense!
We grow up cut off from our roots which leaves us unable to teach ourselves to feel into
our bodies, how to listen to the subtle calls for help and how to heal our physical and
spiritual wounds. We shut down and stuckness, panic, numbness and grief overwhelm our
system.
I hear you.
I feel you.
I see you.
How do we heal?
We reconnect to our roots, we remember how to listen and feel, and we start to heal our
physical and spiritual trauma. I help you do this through Acupuncture and Chinese Medicine,
somatic therapy and reiki.
Start your journey
Head to Rachel's website and schedule an Integrative Appointment to get started on your path.
As always, it's a pleasure to send you this magazine.