Sarah Marrinan – Keller Williams Premier Realty has been selected for the 2015 Best of St. Paul Award in the Real Estate Agency Category

About The Award: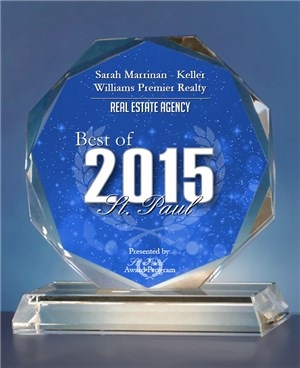 Each year, the Award Program identifies companies that they believe have achieved exceptional marketing success in their local community and business category. Recognition is given to companies that have shown the ability to use their best practices and implemented programs to generate competitive advantages and long-term value.

These are local companies that enhance the positive image of small business through service to their customers and our community. These exceptional companies help make the area a great place to live, work and play.
From Sarah:
Thank you to those from the Award Program that put the effort into seeking out and qualifying candidates and small businesses. I am truly honored to be selected as the recipient of this award in 2015 and I couldn't have done it without great partners, clients, colleagues, instructors, mentors and of course my family and friends that support my tireless schedule and put up with limited time and attention.
To those that continue to support my small business, you are truly the true source of my success. Without your trust and referrals, I couldn't grow. I can only hope to return the favor.
I plan to pay it forward and nominate other deserving small businesses for this honor in the years to come.
Please contact me if you have any questions and I would be glad to be of service to you.
With gratitude,
Sarah Marrinan