Donate Stuff. Do Good.
Is your home bursting at the seams? Are you tripping on stuff? Can't find things in your closet? Moving to a smaller home or out of state? Time to ditch some stuff and help out a good cause doing it!
I chose the organizations below because I have a personal connection in someway to their cause. There are many more out there and I can get you a full list (just contact me) if these don't meet your needs.
Check these out: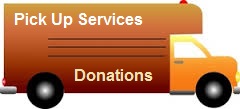 www.hopechestforbreastcancer.org (Possible pick up available)

https://www.bridging.org/give-stuff/
You're Welcome!
Once you have gotten rid of all that extra stuff, we can sell your house! 🙂