How Can You Protect Yourself?
For most people, a home is the largest purchase they will ever make. It's critical that you have an unbiased party give the home a second look. For most buyers, this means hiring a professional home inspector. FOR YOUR PROTECTION GET A HOME INSPECTION
This is important inspection information. (Want to watch the video instead?)
Most Purchase Agreements are "Contingent on Inspection" and most commonly, the inspection often must be done within a set time frame of final acceptance of the Purchase Agreement (the offer). The inspection contingency contract addendum reads.
All inspection(s), test(s), and resulting negotiations, if any, shall be done within __(usually 5-10 days)__ Calendar Days of Final Acceptance Date of this Purchase Agreement ("Inspection Period"). Buyer may cancel this Purchase Agreement based on the inspection(s) or test result(s) by providing written notice to Seller, or licensee representing or assisting Seller, of Buyer's intent to cancel no later than the end of the Inspection Period. If Buyer cancels this Purchase Agreement, Buyer and Seller shall immediately sign a Cancellation of Purchase Agreement confirming said cancellation and directing all earnest money paid here to be refunded to Buyer. If Buyer does not cancel this Purchase Agreement before the end of the Inspection Period, then this Contingency shall be deemed removed and this Purchase Agreement shall be in full force and effect.
Inspections are highly recommended but they are not mandatory. (You will likely see the flyer titled "For Your Protection, Get a Home Inspection" more than once; at purchase offer and closing.). The inspection is a contingency in your purchase agreement allows for negotiations to reopen if unexpected serious issues arise.
A home inspection is likely going to be scary and a little disheartening.This is normal and we will roll with the punches and get through it together.
Prior to the inspection, the buyer thinks this is the perfect place to call home. The inspector, however, is able to wreck their world in a matter of hours by informing them of all the imperfections and "could go wrongs" lurking behind the walls of the home because it's their job to pick the home apart. A real estate agent can't give much advice on items needing repair, a seller never thinks the repair is a big deal, and the buyer just got kicked in the gut.
Professional inspections take from 2-4 hours depending on the size of the home and depth of inspection you choose to have done. Different inspectors provide different services but they generally run under $600. Interviewing them will allow you to find out their qualifications, certifications (like ASHI or NIBI), services, prices and availability.
You should plan to meet the inspector at the end of the inspection for approximately an hour to go over his/her findings and pay for the inspection. You will also receive a copy of the inspection report (and estimates if you go that route) so if you can't get arrangements made to meet the inspector you will have that report to reference.
IN MOST CASES, YOU WILL ONLY HAVE 1-2 DAYS TO REVIEW THE REPORT AND DECIDE HOW YOU WANT TO PROCEED (this time frame is noted on your inspection contingency).
You will want to interview to find an inspector that best fits your needs. You can find good info on interviewing inspectors at: http://portal.hud.gov/hudportal/HUD?src=/program_o…
Want a list of inspectors my past buyers have been happy with? Contact me!
Wondering if your friend or family member can do the inspection? They can if that is satisfactory to you but ask yourself if they will be unbiased…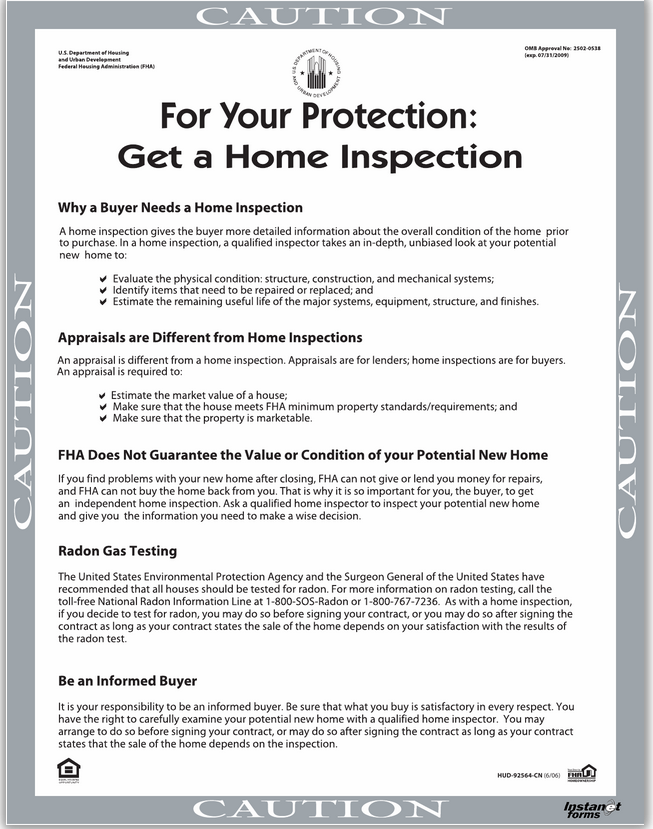 I DO NOT ENDORSE ANY SPECIFIC INSPECTION COMPANY HOWEVER I CAN GIVE YOU THE NAMES AND NUMBERS THAT PAST CLIENTS HAVE USED AND FOUND ACCEPTABLE. Contact me at SarahMarrinan [at] kw [.com]
Here is a video from Pillar to Post about Types of Inspection
OTHER GOOD RESOURCES:
http://www.callsarahfirst.com/hidden-future-costs-of-home-owership
http://www.callsarahfirst.com/2015/11/29/most-common-mistakes-home-buyers-make/