Three Main Factors for Determining Real Estate Comps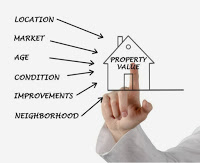 Whether you are buying a new home or selling your old one, "comps," or comparable sales, are important. As a seller, they can be used as benchmarks to properly price your house. The last thing you want to do is undervalue it, which could end up losing you money, or overvalue it, which could make your property sit on the market for way too long ultimately resulting in a below market sale price.
As a buyer, comps provide a ballpark figure that you can expect to pay in the current real estate market and, thus, help prevent you from overpaying for a property. The following are three things real estate agents keep in mind when looking at comps:

Look at the Location
As a seller, one of the first things to consider when looking for comps is location. This means looking at homes sold in your neighborhood particularly with your type lot, i.e. cul-de-sac, lakefront, busy road, etc.
The same goes for buyers, who should compare nearby houses for sale to determine their house's value. If you can't find comps from the same neighborhood, then keep other boundaries in mind, such as school districts.

Recent Sales & Market Conditions
The real estate market fluctuates a lot over the years, which means values can rise and dip substantially over time. If you can, look at houses that were sold within the last six months for a good comp. Even better, look at pending sales. Pending sales are deals in place between buyers and sellers that haven't gone through yet, which means they are the most up-to-date comps you'll find. Obviously, pending sales are something you don't have access to on your own, so it's helpful to have the assistance of a real estate agent who does have access to that kind of information.
Market conditions also play a role. Homes should be price aggressively – ahead of the market trends. A good agent can explain the current market trends to you.

Home Features & Condition
Location and time frame are huge factors in finding a good comp but so are the home's features. A one-bedroom, one-bathroom home is a bad comp for a three-bedroom, two-bathroom home. Different home styles and layouts are also key comparisons.
Age of the homes mechanical systems and structure play a big role in pricing. Also, a house with a kitchen full of upgrades and new, energy-efficient appliances generally sells for more than a house with a normal kitchen with used appliances.
Obviously, the odds that you'll find a perfect comp, whether you're a buyer or seller, are pretty slim when you consider that most houses have different features. It's something you should keep in mind, though, when evaluating comps to get a better understanding of how the home you want to buy or sell compares in terms of value.
Pricing can be very tricky. There is a lot of market study that often needs to take place to correctly price a home and the market changes constantly! Unique homes are particularly hard to price even for a skilled real estate agent.
When it comes time to sell, don't trust automated values online that can't accurately compare all the considerations listed above. Hire a local, skilled real estate agent to help you price it right and get the maximum market value or your home. Don't fall into the trap of gmmicks.
READ ALSO:
About the author: The above article "Three Main Factors for Determining Real Estate Comps" was provided by Sarah Marrinan.With multiple certifications, awards and experience, if you're thinking of selling or buying, I'd love to share my knowledge and expertise. Proudly servicing the following Twin Cities, MN areas: White Bear Lake, Hugo, Lino Lakes, Centerville, Vadnais Heights, Shoreview, Mounds View, Circle Pines, Mounds View, Forest Lake, Columbus, Wyoming, Saint Paul, Minneapolis, Roseville, Lake Elmo, Stillwater and Oakdale, MN.Visit Sarah's website at www.CallSarahFirst.com.