Minnesota buyers are tired of competing for homes they find online
While trying to buy a house during a market with low supply, my clients assumed their only real estate options were limited to homes that were officially for sale online.
Well, guess what? My clients ended up buying a house that wasn't even listed and learned that this home-buying strategy wasn't just possible, but often the only choice for buyers purchasing property in a competitive market.
Here's how my clients pulled it off, and how you can, too.
How my clients bought an unlisted house
The backstory: My clients and I had been house hunting for months in the Twin Cities, and had fallen in love with a few properties. Each time, they made an offer promptly – often over list price with limited inspections and favorable seller terms – only to be heartbroken upon learning that it went to another buyer (a cash buyer, relative of the seller, etc).
Feeling at a loss, we scoured White Bear Lake, Centerville, Hugo, Lino Lakes and other suburbs for other options, but nothing else was for sale—which made sense, because move-in ready homes that are priced competitively are coveted in the Twin Cities.
Disappointed and tired of waiting for listings that seemed to sell within days of their going live, I suggested that we keep an eye on public listings but shift our focus to finding a private sale. This means that we weren't going to schedule a showing at any houses unless they were absolutely perfect and under budget because we knew how painful the multiple offers situation was and my time was better spent digging for the perfect home.
Considering the right house was more important that a quick move, my clients were game to go the route of finding an offer market home. I put out feelers to my network of agents but everyone was in the same boat – so many buyers and no sellers with this type of property. My past clients with homes my new clients desired were also either not a match or staying put in their home.
So I discussed going to the next level with my clients. I would market specifically to homeowners with houses that matched their desires. This required a few things – my clients needed to be comfortable with me advertising their search – and understanding there may be added fees if the seller doesn't pay for the agent services. They also needed to recognize that sellers who have not put their home on the market may not be able to move quickly – so this is a bit more of a "long game" plan that could take months. Not to mention, the sellers will basically get to name their asking price, and if we my clients were interested, we could put in an offer for that amount—take it or leave it.
Finally, we had more good news: We found that elusive off-market property!
It was a thrill to know that there was a chance to put this home under contract without having to compete against other buyers, saving a lot of worry and disappointment in the offer process. I'd love to say it was a quick and smooth process but it still took a little creativity and compromise to finalize the deal.
Are you ready to find an off-market property? Call Sarah First! An hour consultation via virtual meeting will get the ball rolling. Call, text or email to schedule your meeting now.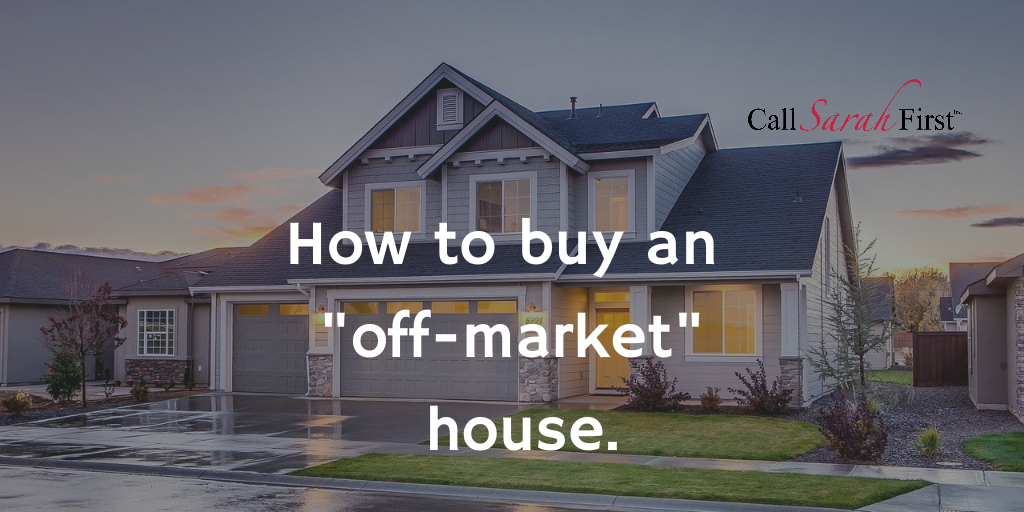 How to buy a MN house that isn't on the market
Buying an unlisted house is a growing trend in heated markets… and it doesn't mean skipping the real estate agent. This means extra work for the buyer's agent digging into the housing inventory in a particular area to find unlisted gems where the owners might be up for selling if they receive the right offer. It means you need an agent that doesn't just help buyers – but also understands how to market to sellers.
Here's what you need to know before shopping off-market properties
Buying an off market property requires serious commitment to moving. This isn't about casual looking and open houses. Before you get a plan together with your agents, you need to process the following steps in your own mind and heart.
Commit to buying a house in a particular area
If a real estate agent is willing to go the extra mile to find you an off-market home, pledging your commitment to that person is a no-brainer. Stay loyal to that agent so his or her work will pay off. If that agent has shown you 5+ homes, commit to work only with them on a sale to make it worth their time. Loyalty goes a LONG way with many agents. If they think you are shopping around, they will focus their time on clients that are not shopping around.
Work out your finances ahead of time
Get pre-approved for a home loan (or collect your statements to verify you have the cash), and have that letter from the bank in hand to submit with your offer. This proves you're serious, and can move quickly.
If you have a house to sell, it must be ready to go
As mentioned above, you need to be prepared to move quickly and prove you are serious. Many homeowners that need the money from their existing home to purchase the next home will often choose to sell their existing home and rent for a period of time to increase the flexibility of their timeline. If you don't need to sell but would like to coordinate your move, you must have your own home ready for market or under contract with a buyer before pursuing an off-market property.
Be flexible
When an agent finds you an off-market home, be ready and willing to go see it on the seller's terms. It's important to make the best cooperative first impression with the seller and go ASAP so you don't look wishy-washy and before the sellers potentially changed their mind about selling.
Decide what you're willing to do
Get crystal-clear on your budget and what you're willing (and not willing) to do to get a home before going the route of an off-market listing.
The nice part about buying a home off-market means that you'll hopefully avoid lots of back-and-forth negotiating and competing with other buyers but that doesn't mean you can necessarily go in with a low offer. Understand what your money buys and know that you are asking the seller to move – they have the leverage, not you. In a competitive market, you'll need to ask yourself: What am I willing to do to buy this house?
Don't assume your seller won't play the field
Even if you're the first buyer to come knocking at a homeowner's door, don't assume things will stay that way once you've piqued the seller's interest in selling. This might encourage them to call their own agent they've been loyal to and put their house on the public market for competitive sale. To avoid this, you're also going to have to be prepared to make an offer quickly at an appealing price.
Finding an off market property in the Twin Cities
If all there sounds good to you, here are a few tactics that will help make this needle-in-haystack process a success.
Find a real estate agent willing to do some digging
Buying a house that isn't for sale takes more legwork on the agent's end than usual. So for starters, you'll want to make sure you have a REALTOR willing to go the extra mile. Here are a few of the steps agents take.
Prospecting neighborhoods: This is where you drive around a particular neighborhood, writing down addresses of homes that, if they were on the market, you'd love to see then pass the list of addresses to your agent. The agent will then review the properties and reach out to these owners using information from (purchased) private databases. Agents that prospect as part of their business pay for services to help them.
Review expired listings: This is where your real estate agent digs through expired and cancelled listings in the MLS database to see who once had their home on the market, checking to see if it ever sold. If it hasn't, your agent can then reach out to the sellers and see if they're open to selling now.
Research tax records: Your agent can also scour tax records in a particular neighborhood to see who has a different address for tax invoices than the property address. This suggests that the house is a second home or an investment property.