What are Closing Costs in MN?
There are a number of expenses related to the purchase or sale of a home in Minnesota. Most buyers understand they need a down payment for a house however there are other expenses as well and while you don't have financing expenses if you pay cash for your purchase, there will still be inspection and transfer related expenses. Most sellers assume their expenses will be just real estate commission but there is additional expense when transferring your home to your buyer.
Before you decide to buy or sell a home in MN, you should understand the expenses involved. Contacting an experienced real estate professional before you jump into the market will help you estimate your financial obligations so that you can be prepared.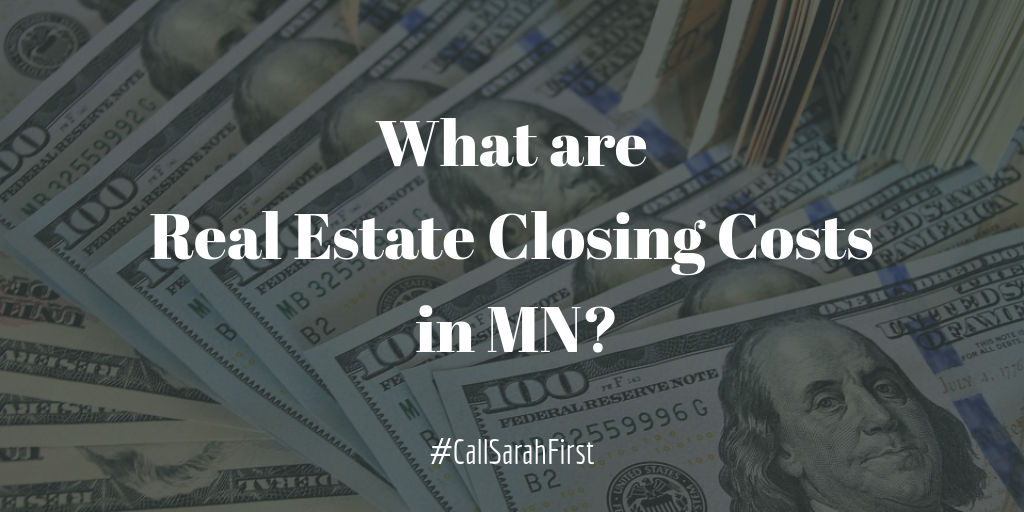 For buyers closing costs may include:
appraisal fees,
credit report fees,
loan origination fees,
loan discount points,
title search,
title insurance fees,
lender insurance fees,
PMI insurance,
Pre-paid interest,
escrow accounts (home insurance, taxes),
mortgage recording fees,
transaction related expenses that are POC,
a real estate retainer fee.
When a potential buyer makes an offer on a home there is an option for the buyer to negotiate that the seller contributes money toward their closing costs. Closing cost negotiation should be discussed with a real estate professional that has their finger on the pulse of the market. Lender fees can be a big part of your closing costs so ask about them when you are mortgage shopping. Knowing your expenses upfront will help you be ready to purchase a home.
For sellers closing costs may include:
mortgage payoff,
real estate commissions/retainers,
title transfer,
recording fees,
association fees,
well/septic testing,
non-homestead fees,
repairs,
unpaid taxes,
liens/judgements,
unpaid utilities.
While most of these expenses are predetermined, some of them will be negotible. Sellers should discuss costs with a seasoned real estate professional. Don't automatically assume the lowest estimate you receive is the best. Go with the most thourough estimate so there are no surprises when reviewing offer terms or closing.
Learn more about your next real estate transaction by reading our Title FAQs or visiting the MN Real Estate Terms Explained page. You might also be interested in Closing Conversations that happen on closing day.