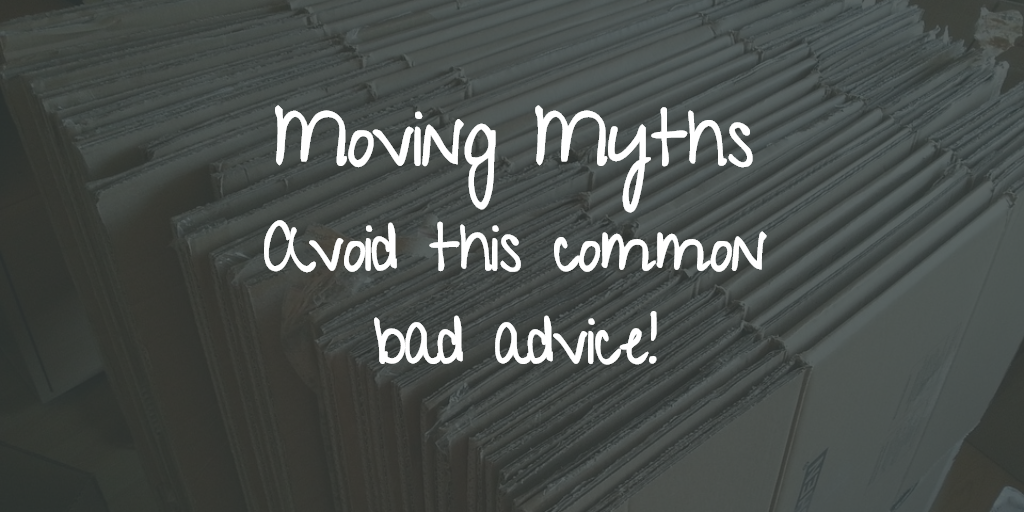 Moving is stressful enough without terrible pointers and bad advice from friends, family and coworkers. After all home buyers and sellers have enough other things to worry about! Here are the four common moving myths that will almost certainly cause moving stress, if you let them.
Check out these common moving myths that I hear all the time.

1. FIND FREE BOXES
Free is good, right? Not necessarily, when it comes to moving boxes.
While you may be tempted to head to your friendly neighborhood store to get all the boxes you can for free but resist the urge. You should never skimp on boxes, even if that means you have to pony up a few bucks for them. Here are some tips on finding the right boxes.
The ideal moving box should be made of thick cardboard and be easy to carry and stack on a dolly.
It should have a designated area for writing what's inside the box, and have the weight limit printed on the outside so you know what it can carry without ripping.
Boxes of uniform size make it easy to gauge how many you'll be able to pack in the truck based on the dimensions of the truck and a little math.
Things to watch out for… Packing your possessions in free produce boxes could mean you're joined by unwanted insects in your new home. Boxes taht have been wet may have weak bottoms.
PRO TIP: Months before your move watch for a sale on plastic bins and stock up on bins (all in the same size but different colors) for all of your seasonal items.
2. MARK ALL THE BOXES THE SAME WAY
Instead of grabbing any old marker you have lying around get a pack of multi colored permanent markers and color code the writing on boxes so that everyone knows what goes where in your new home. If you only have a black sharpie, you can use color coded masking tape.
Along with jotting down the contents of the boxes and marking the FRAGILE boxes, make sure to put an arrow facing up so everyone knows how the box should be loaded and carried.
3. KEEP EVERYDAY THINGS OUT UNTIL MOVING DAY
It's tempting to wait until the last minute to pack up all your personal care items and bedding if you're using them on your final night in your old digs. But that can create chaos and increase the odds of something getting left behind or misplaced.
Lack of preparation is the top reason why consumers experience higher-than-expected moving costs and stress because you could wind up paying professional movers to stand around while you pack up those last few incidentals or worse, miss your move out deadline and incur fees or penalties.
At least a week prior to moving day, pack EVERYTHING.
It sounds backward but start by packing your suitcase. Pack medicines, pet food/leash, toiletries, school items for kids, a few days of clothes, electronics chargers, plus sleeping bags as though you're going on a short vacation. Then make sure all the TP rolls are full and you have a roll of papertowels in each bathroom and kitchen. Set aside the broom/vacuum in a place out of the way.
Now pack EVERYTHING el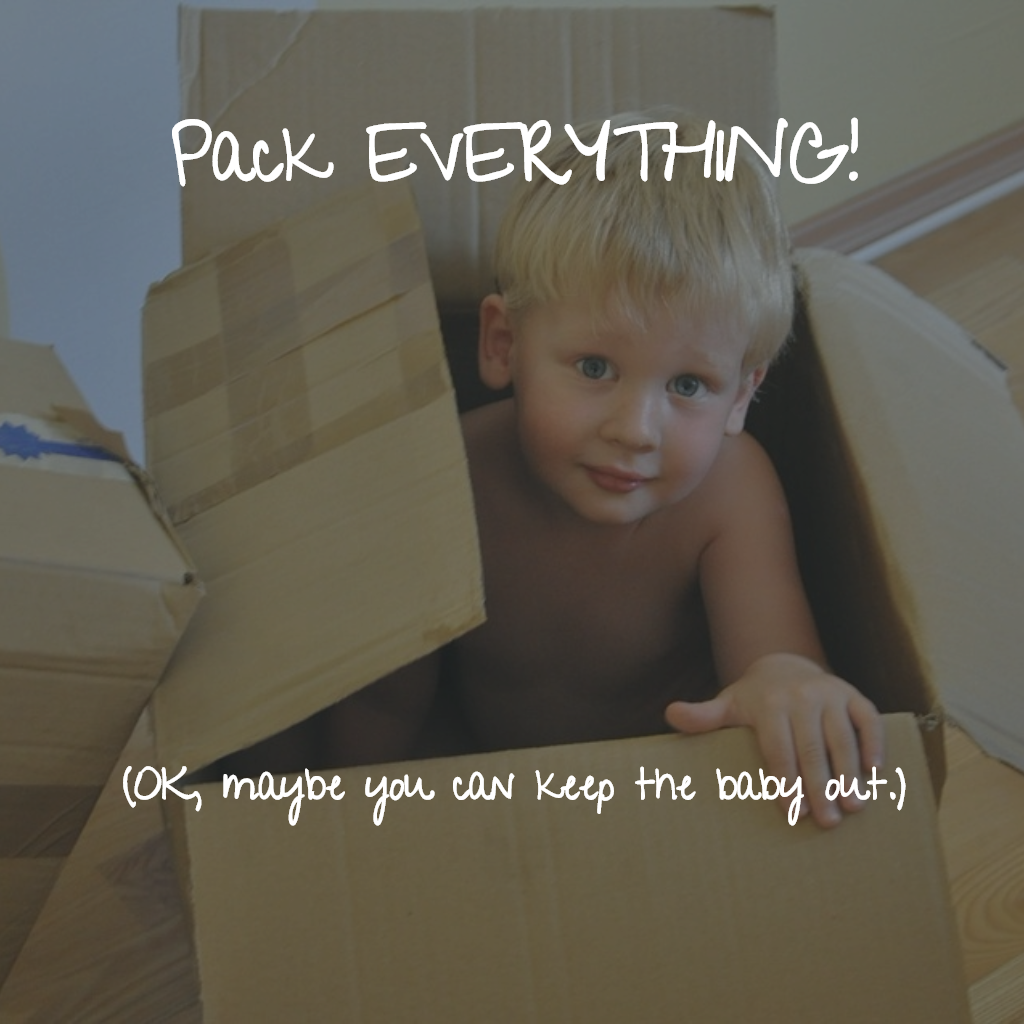 se. All the dishes, office supplies, EVERYTHING. You are too busy for that stuff in the final days. The DAY BEFORE the move you should have everything loaded into a truck or storage facility except your suitcase.
Once everything is packed, you can clean. Remember the vacuum and paper towels? That should be all you need if you have been keeping clean. To make it even easier, hire a cleaner.
Wait, if the bed is moved, where will you sleep? This is a great time for a slumber party! Order pizza (with plates and napkins) and camp out on the living room floor! You could also stay with a friend or relative… or splurge on a relaxing night at a nice hotel. Not only will a "waterpark hotel night" motivate everyone to get packed up ahead of time, you deserve it for being so organized!
4. FRIDAY GIVES YOU THE WHOLE WEEKEND!
Many people assume Friday is the best day to move because it gives you the whole weekend to unpack. Here are the best reasons to reconsider a Friday move:
Everybody else is thinking Friday too. And that extra demand means higher costs. Movers charge more on weekends and at the beginning and the end of the month because that's typically when they're the busiest. Many moving companies also charge more in the spring and summer than they do during the fall and winter.
If you move during a peak time, it can mean you have fewer choices with all the crews booked and when movers are stretched thin and you might have to settle for movers with less experience.
Remember that idea about staying at a hotel? That will be cheaper during the week too.
No matter when you choose to move, you should make sure to book movers three to four weeks in advance to lock in the day and time you want.
BONUS TIPS:
Storage facilities give you the opportunity to clear out your place in advance. This is VERY important for home sellers! Ask any staging expert, you MUST declutter! A staged house will sell faster and for more money – off setting the cost of the storage facility.
Moving in the middle of the month is the perfect scenario for those wanting to rent a storage facility for just a month to complete the move themselves instead of hiring movers. The first two weeks are spent putting stuff in storage and the last two weeks are spent organizing stuff into your new place. A cost effective way to prevent moving stress and chaos.