Key Points:

The Parade of Homes showcases hundreds of luxury, new construction and Green Path homes in the Twin Cities and throughout Minnesota.
The representative at the open house represents the SELLER. Partnering with a Realtor of your own when purchasing a new construction home means you have an advocate looking out for your best interests throughout the building process.

The Spring Parade of Homes runs from Feb. 27 through March 28, 2021 .
The Remodelers Showcase from March 26 through March 28, 2021.
Bring your mask. Safety precautions will be exercised at the Parade of Homes to keep all visitors safe, and your agent will be your best resource.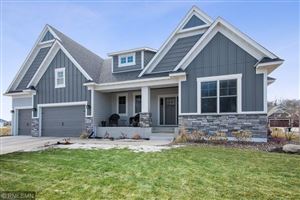 Have you outgrown you home? Ready for an upgrade? If so, be sure to check out the highly anticipated Parade of Homes and Remodelers Showcase events safely and in person this spring.
Here are more details you can use as you plan to attend this one-of-a-kind home tour.
What is the MN Parade of Homes?
Showcasing some of the finest properties in Minnesota, the Parade of Homes inspires homeowners in and around the Twin Cities. This month-long event features 355 brand-new homes and 43 remodeled homes which are free and open to the public
While touring the Parade of Homes, expect to view the ultimate exhibition of luxury, green, high-tech and new construction homes in Minnesota. This event is "where dream homes come true."
Taking precautions during COVID-19
In an effort to maintain a comfortable and healthy environment, the 2021 Spring Parade of Homes will take extra safeguards to keep all attendees well. This year's event has added extra guidelines and precautions, such as:
Limiting a maximum of 10 occupants per home model
Requiring the use of face masks
Maintaining six feet of social distancing
Frequently sanitizing high-touch surfaces
Along with these safety measures, you may book a private showing with your agent or request complete virtual home tours on available properties. Those interested in continuing a tour of eligible homes from the safety and comfort of your couch can view all the properties offering virtual tours.
When is the 2021 Spring Parade of Homes in MN?
The 2021 Spring Parade of Homes spans an entire month, allowing viewers ample time to leisurely and carefully explore properties throughout Minnesota. If you didn't fall in love with something new, the concluding days of the spring tour will highlight the area's most beautifully renovated homes with a special Remodelers Showcase.
2021 Spring Parade of Homes:
Feb. 27 through March 28, 2021
Weekly, Thursday through Sunday
Noon-6 p.m.
2021 Spring Remodelers Showcase:
March 26 through March 28, 2021
One-weekend event, Friday through Sunday
Noon-6 p.m.
Get more details on this spring's Parade of Homes — including special events, free offerings and other upcoming tours.
Do I need a real estate agent for new construction?
Yes, it is to your advantage to work with an experienced REALTOR® as you tour the Parade of Homes or build a brand-new home. Your agent will be your best resource and advocate throughout your home search. They can explain the steps and timeline, advise on key decisions, and help with negotiations or other challenges that may arise.
When starting your Parade of Homes experience with your REALTOR® that is experienced in new construction, you can rest assured that you have an expert guiding you as you navigate the unique path of a new construction purchase. And if you don't bring your REALTOR® with you on the Parade of Homes, you'll still want to mention to representatives at the properties and online that you are already working with an agent. Be sure to give your agent's name upfront.
Partnering with a local REALTOR® may be especially beneficial this year, as your agent will advocate for you during COVID-19. Not only will your agent understand the norms of today's unique housing market, but will also be current with important safety procedures throughout the purchase process.
Looking for rennovation ideas? Visit the Remodelers Showcase
Deepen your Parade of Homes experience by visiting the Remodelers Showcase. This three-day event offers a unique perspective of over 40 remodeled homes in the area, plus the opportunity to converse with local remodelers.
Contractors and architects have thoughtfully remodeled the featured homes to better align with modern living standards — while maintaining original features and honoring the character of the property. Gather insights from these experts, as you may find them beneficial while planning your own home improvements.
Are you ready to make your move?
If you're feeling inspired by the 2021 Spring Parade of Homes, now is the time to move forward. Reach out today to discuss how you'd like to approach and visit the Parade of Homes. Together, we can find the right new construction home or the inspiration you need to renovate your home and make it into a true showcase property.
This article was provided by Sarah Marrinan, REALTOR. Find more great info on Sarah's website at www.CallSarahFirst.com/about.
Ready to buy or sell a home? Choose a Certified Residential Specialist!

As a Certified Residential Specialist with multiple additional real estate designation, certifications, awards and experience, if you're thinking of selling or buying, Sarah Marrinan would love to share her knowledge and expertise. Proudly servicing the Twin Cities, MN with extra focus in these areas: White Bear Lake, Hugo, Lino Lakes, Centerville, Vadnais Heights, Shoreview, Mounds View, Circle Pines, Mounds View, Mahtomedi, Forest Lake, Columbus, Wyoming, Saint Paul, Minneapolis, Roseville, Lake Elmo, Stillwater and Oakdale, MN.
Contact Sarah on this website at www.CallSarahFirst.com/contact