The great debate: Rent vs Buy a Home
You may be wondering is buying right for you. Here is a comparison chart that may help you consider both sides.
Buy

Rent

You plan to stay in one general location for an extended time
Your rent is as high as a mortgage payment (PITI) for a similar or better home
You have a family and kids in school
You can afford a home large enough to have a roommate renting from you benefiting YOUR home equity growth
Tax Deductions
Affordable mortgage interest rates
You want a place for your family to call home
Nice homes are available in your price range
You are buying in an area with rising prices




You get relocated a lot for work or school
You travel a lot AND have no handyman skills
You are new to the state/area and not sure where you'd like to be
Your credit is bad and/or you have zero downpayment
Homes you can afford have high maintenance costs or in poor condition
There are rentals that have all the amenities you desire without long leases




Renting vs Buying a Home In the News:
August 8, 2016 -
Trulia's latest Rent vs. Buy Report
explained that homeownership remains cheaper than renting with a traditional 30-year fixed rate mortgage in the 100 largest metro areas in the United States.
January 25, 2016 - Buy or rent? Zillow CEO shares real estate tips
September 22, 2015 -According to the latest
Beracha, Hardin & Johnson Buy vs. Rent (BH&J) Index
, home ownership is a better way to produce wealth, on average, than renting.
View a
Buying vs Renting Calculator
from Realtor.org (Assuming you will not have a roommate renting from you.)
Share this rent vs buy chart: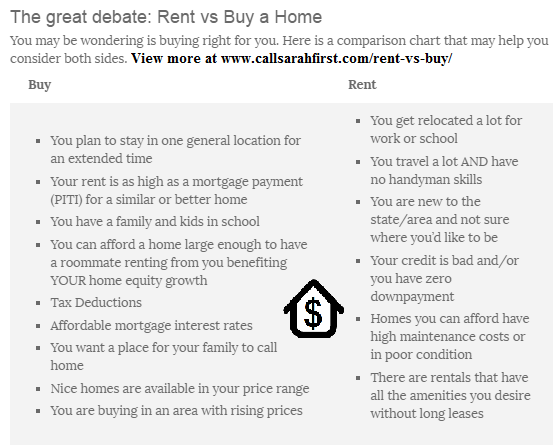 What a home to be an investment?To ensure you purchase the best real estate, you need to know what qualities make for a good investment property.Related: Where to Buy Real Estate for Higher Value...
Effective After Tax Rate.
This is important for helping people fully understand the huge value of home ownership.
Let's use a calculation of an average appreciation of a home at 4.5%
If the client has a mortgage of 3% and is in a 24% Income Tax Bracket: Take 100-24 (24 being the Income tax bracket) = 76.
76 x .003 = 2.28. The Effective after tax rate is then 2.28%.
Deeper drill down of this example: If I own a $400,000 valued home and it is appreciating at 4.5%, then next year it would be valued at $418,000.
4.5 - 2.28 = 2.22 If we then take the $400,000 x 2.22% it is a $8,880 net gain. That is a gain of $740 per month!
Of course there are other costs associated with owning a home like property taxes & insurance but we all need shelter! Also keep in mind that while one is making a payment, the principal balance is going down and there is additional equity gained.
Bottom line is that homeownership is a great way to build wealth and there are many studies that can show that.