Smart Home Certified REALTOR
The Smart Home Certification demonstrates to buyers and sellers that the agent is dedicated to developing expertise about the technology, privacy issues, and best transition tactics to help with a smart home sale. The training and education agents receive through Smart Home Certification not only increases their technical and listing skills, but it also adds value for their represented clients by equipping the agent with the skills and tools to identify what qualifies as a smart home and to advise them on how to value the technology.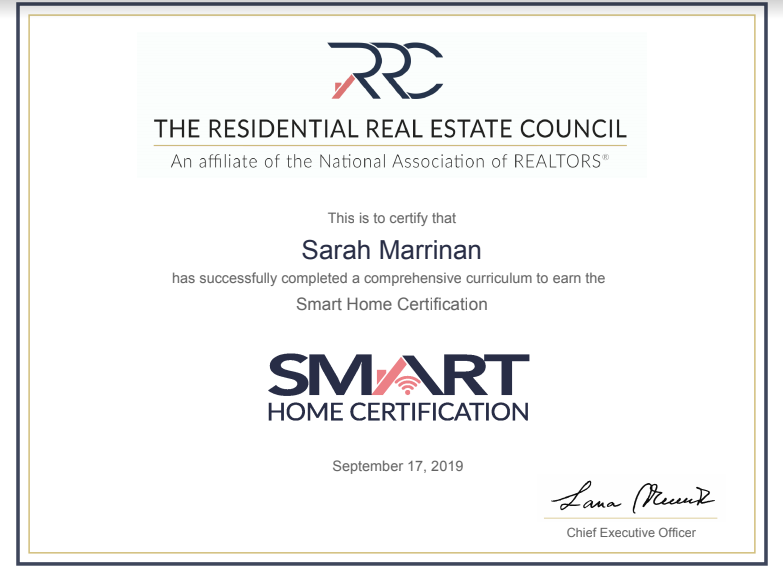 10 things an agent with the Smart Home Certification can do:
Define the Internet of Things (IoT)
Identify what is needed for a house to be considered a smart home​
Describe the common technologies that can be found in smart homes
Look for smart devices within a home
Apply promotional ideas to make a house stand out as a smart home​
Assess the value of smart home features​
Address security issues when selling/buying smart home technologies​
Recognize the moral, ethical and legal obligations that come with showing homes with smart technologies ​
Provide a smart home selling tool kit​
Provide a smart home transition checklist
Call Sarah Marrinan, your Certified Smart Home Specialist!
Home sellers (and buyers) may also want to find a REALTOR® with the following designations and/or certifications:
SRS Designation = Seller Representative Specialist
GRI designation = Graduate Realtor Institute
CRS Designation = Certified Residential Specialist
Pricing Strategy Advisor® (PSA)