National Update on Home Prices, Affordability and Opportunity
The following comments were extracted from an interview with Matthew Gardner on Inman. Mr. Gardner is the chief economist for Windermere Real Estate, the second-largest regional real estate company in the nation.
Housing Prices and State-Level Changes:
The Western U.S. saw the greatest price growth during the pandemic.
Most states' real estate sale prices for the current quarter are below the levels seen a year ago.
Sale prices in 36 states either matched or exceeded the levels seen a year ago.
Minnesota home sale prices matched the level seen a year ago.
33 states have sale prices at or above the highs seen in the previous year.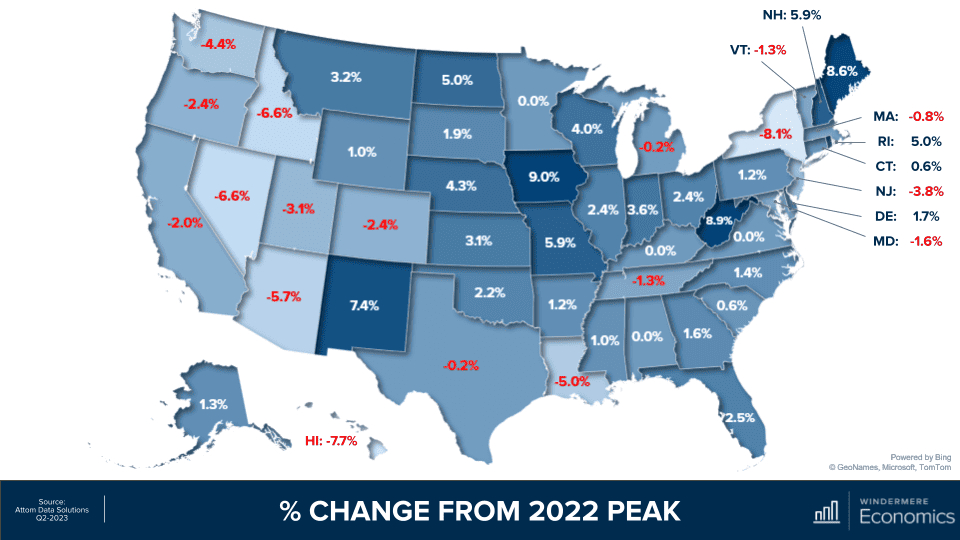 Metro Markets with Significant Gains:
Some metro markets have seen significant gains in the past 12 months.
Notable markets include Roanoke, Virginia; Reading and York, Pennsylvania; Macon and Savannah, Georgia.
Underperforming Markets:
Some markets are underperforming their respective states.
California tops the list with three metros having prices significantly below the state average.
Remote worker influx led to skyrocketing prices in certain metro areas like Austin and Boise.
County-Level Recovery:
Counties with over 1,000 transactions in the second quarter show varied recovery levels.
Half of these counties have met or exceeded their prior peak.
Average shortfall for counties with lower sale prices is around 4 percent.
Only seven counties in the country have sale prices down over 10 percent from their 2022 peaks.
Direction of U.S. Housing Market:
The U.S. housing market is headed in the right direction despite not being fully healed.
Mortgage rates remain remarkably high but the market is showing resilience.
Housing Affordability:
The National Association of Homebuilders reports that only 40.5 percent of sales in Q2 were affordable to median-income households.
The most affordable markets in the second quarter had average sale prices around $203,000.
Resiliency of Ownership Housing Market:
The ownership housing market has shown remarkable resiliency despite rising mortgage rates.
Mortgage rates have risen from 4.8% in Q2 2022 to 7% in Q2 2023.
Expected slow decrease in rates in the second half of the year could impact prices and affordability.
Unbalanced Market and Future Expectations:
The market will remain unbalanced until there's a significant increase in homes listed for sale.
Rates are expected to slowly move lower in the second half of the year.
Economist expects this rate movement to impact prices and affordability.
Closing Remarks:
For local updates, contact SARAH MARRINAN