Is it a good idea to have your house inspected before you put it up for sale?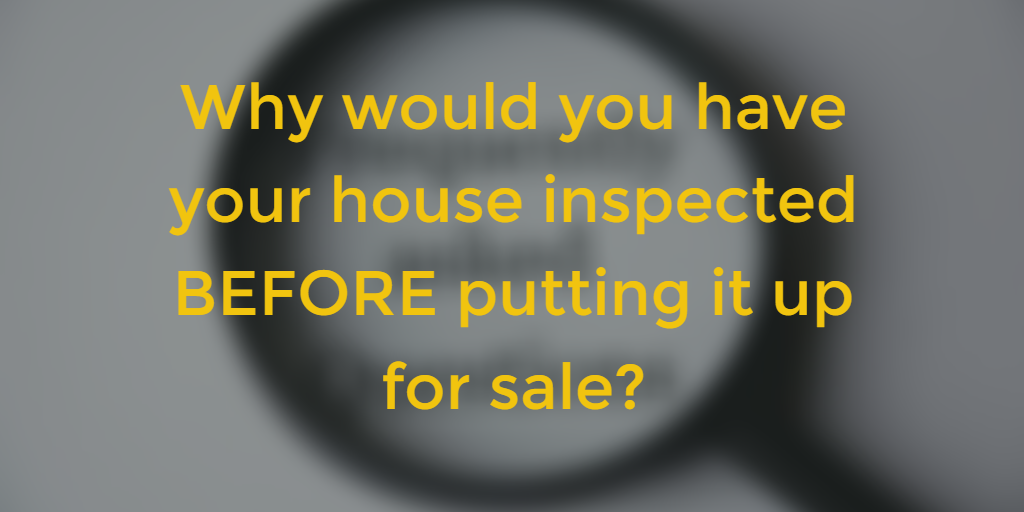 In some municipalities,
an inspection is REQUIRED
prior to putting your home up for sale. We can help you set up any required inspections.
What about areas that don't have required inspections?
As you may know, most Purchase Agreements are "Contingent on Inspection" and most commonly, the inspection often must be done within a confined widow of time after final acceptance of the Purchase Agreement (the offer).
Inspections are highly recommended to buyers but they are not mandatory.
The inspection a contingency in your purchase agreement allows for buyer(s) to reopen negotiations if unexpected issues arise and this can be a kick in the gut to sellers.
We are big believers in pre-market inspections, especially for single family homes. It allows time to fix any items that come up in the inspection report before the home goes on the market and prevent potentially costly repair negotiations and time pressure. Sometimes buyers will even waive doing their own inspection if they can read your inspection report.
Prior to the inspection, the buyer thinks your's is the perfect place to call home. The inspector, however, is able to wreck their world in a matter of hours by informing them of all the imperfections and "could go wrongs" lurking behind the walls of your home …because it's their job to pick the home apart. A real estate agent can't give much advice on items needing repair, a seller never thinks the repair is a big deal, but the buyer might panic.
So. How do you do a pre-market inspection?
You can talk to a professional inspector about your house just the way most buyers do. There are two ways to use a home inspector to your advantage.
Full Inspections, like a buyer would do, can take from 2-4 hours depending on the size of the home and depth of inspection you choose to have done and they generally run under $500. You should plan to meet the inspector at the end of the inspection for approximately an hour to go over his/her findings and recommendations and pay for the inspection. You will also receive a copy of the inspection report so you can print it and note all repairs you have made for the buyer in advance.
If your home is in excellent condition, this full report is a great selling tool!
The alternative is an inspection consultation. These generally take about an hour and run about $100. The inspector walks through your house with you and addresses the most common inspection problems. This allows you to take notes and repair problems that you know are minor but may appear worrisome to a buyer in addition to planning for potentially bigger concerns.
*Note, an inspection may turn up issues with your home that you will be required to report to the buyers whether you repair them or not.
If you'd like to do a pre-market inspection, let us know and we will help arrange for it. Depending on the type of inspection you choose, we will send you a list of a few inspectors you can call that some of our past clients have been happy with (or you can just go online and search for MN home inspectors and find a long list to choose from). If you want, we can even be present for the inspection so you don't have to take any additional time off work.
You can schedule anytime (before your home is available to buyers) however, the sooner the better to give you potential repair time!
Let us know if you have any questions!
Want to browse more home seller tips?